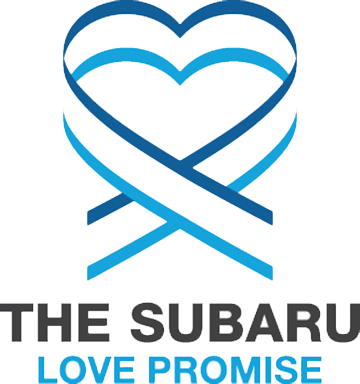 What is the Subaru Love Promise?
Subaru and our retailers believe in making the world a better place and the Subaru Love Promise is our vision of respecting all people. This is our commitment to show love and respect to our customers and to work to make a positive impact in the world.
How is Fairfield Subaru dedicated locally to the Love Promise?
Our Love Promise can be seen in various partnerships with local charities and non-profits. We're grateful for the opportunity, not only to be a part of our community, but to serve it as well.
100 Club of Solano and Yolo Counties
Love Promise Stories from Fairfield Subaru
Subaru and Fairfield Subaru believe in making a positive impact on the communities in which we live and work. We uphold that belief through our Love Promise Community Commitment. Every month, we select inspiring stories from customers and partners from around our area who strive to support our collective commitment and feature them here
A Helpful Hand - Gabriela V
Many willing hands headed to Bay North Church of Christ in Fairfield, California to help distribute groceries to our community in need for Thanksgiving. Within those hands, staff from Fairfield Subaru - partnered with the local the 100 Club of Solano and Yolo County - delivered over 100 turkeys for this cause. Not only did they come to the church Thursday afternoon to drop off turkeys, but they have made a significant impact by connecting with the people in the church and community. With joy they gladly helped other volunteers pack bags and boxes of groceries into families' cars. They have also donated 80 Subaru blankets to the church, which were distributed to the homeless on Thanksgiving Day. Being a family dealership, Fairfield Subaru has always put themselves in perspective of their community wondering where their hands can help next. Although we are aware of social distancing these days, the staff and volunteers of Fairfield Subaru and the 100 Club of Solano and Yolo County have touched many hearts throughout the community!
---
Brooklyn's Journey - Amanda H
Brooklyn came to us as a transfer in from another neighboring shelter due to his fearful behavior and ended up needing to be quarantined. ☹ That very same day, I noticed under his profile it stated he was in a foster home, adopted out, and was going to the vet for his neuter surgery when his accident happened. As unique as this situation was, I was determined to find a positive outcome for this little guy. Animal Control and myself joined forces! They were steadfast on obtaining the surrendering paperwork from the other shelter and confirming they were going to refund the adopter. In the meantime, I was in communication daily with the adopter and the foster keeping them up to date on what was all going on. Long successful story short, we were able to retrieve surrender paperwork, adopter was refunded from the other shelter, dog was released from quarantine as healthy, we performed the neuter surgery, and the adopter was able to pick up Brooklyn from our care as a sponsored adoption through Subaru's Share The Love event. Joining the efforts were additional team members from our shelter, who assisted with the adoption and stayed past their shift just so the adopter could take Brooklyn home a day sooner. Without the assistance and passion of everyone involved, I wouldn't be able to share such a successful happy adoption with their combined efforts! 😊
---
100 Club of Solano and Yolo Counties - Heather G
It has been our privilege to become a part of the 100 Club family over the last several months. This organization of volunteers works tirelessly to raise funds to help support the families of fallen officers and emergency response personnel within our home county. Fairfield Subaru is very proud to partner with this organization this year in our Subaru Share the Love event. These men and women are some of the most generous people in our community and we praise them for all their efforts. The funds they raise help support youth and education, as well as, provide survivor benefits for fallen public safety personnel. We look forward to supporting and working with these very special people now and in the future. Thank you so much for all you do!
---
North Bay Cancer Center - Subaru Loved to Care - Alexa A
One of the first things that I noticed, and I'm sure I'm far from being the first person to spot this, is the warm reception given by everyone here. Not only those working the reception desk, but staff on the floor just passing through a room made an effort at eye contact and kindness. 40 to 50 radiation patients a day.I was early for the Subaru blanket drop but found Heather Graham and Drew Peck of Fairfield Subaru and we settled in to chat about why we were there. Heather, Controller at Fairfield Subaru, was a wealth of information about the Subaru program and was eager to engage on the topic.It wasn't long before Magi Philpot, Oncology Social Worker, joined us from the Cancer Center and gathered her team to set up a few good photos.Afterwards, Magi and Louise Henry, Oncology Clinical Practice Manager, gave us a tour of the three year-old facility. The Center serves up to 30-40 patients daily at the infusion oncology clinic and nearly the same in the cancer treatment floor. With four oncologists on staff including a reconstructive surgeon, Magi was quick to tell us that the Doctors will never be found in their offices. They have a bank of standing desks located near the patient check in area where they can be found when not with a patient.While we did not talk to any patients, it was clear to see that those in the Chemo treatment area were being tended to with care and precision.One of Magi's favorite patient offerings is the Glamour Room. Here patients (and local cancer survivors who are not patients of NorthBay) can be fitted with wigs in a setting of fun and privacy. Magi explained that an old office was used for this service in their previous location and because NorthBay is dedicated to the community the staff was determined to create a comfortable and useful space to the NorthBay Cancer Center. They absolutely accomplished that with this beautiful space. On the way out of the clinical floor, Louise Henry, Oncology Clinical Practice Manager stopped by this plaque which holds special place for all who know what it's used for. It was given to the Center by a NorthBay employee. The bell came from a downed ship found in one of the Great lakes and is itself a survivor. Clinical survivors ring the bell after completing treatment to recognize their continued success and survival.As we were finishing up the tour I commented on the beauty and variety of the artwork situated throughout the Center. According to Magi, all the artwork was designed by local (California) artists. Some of it was won at Cancer Center auctions and donated back to the Center for display.Louise and Magi both were quick to share how much the community supports this non-profit hospital. They have both been with NorthBay for more than 20 years and have a lot to be proud of. NorthBay Cancer Center is a state of the art facility located in Vacaville, California and is a proud member of the Mayo Clinic Care Network, allowing NorthBay oncologists to connect with Mayo Clinic experts for a second opinion on complex cases.After returning to the office from NorthBay we received some photos taken by Magi of the infusion center. She told me during my visit that the blankets are very much appreciated by the patients who use them and the staff who have them to share.
---
Like Family - Charlene K
I recently purchased a Forrester and I've never had a brand new vehicle. I was very scared to have a monthly payment for a new car. After purchasing the Forrester I looked over my paperwork and noticed two charges I did not remember agreeing to. I went to the Subaru dealer for my Subaru love meeting to learn about my Forrester. I told Drew about my concerns and after my session with him, he took me to Wahid (He is phenomenal). I explained to him why I had to buy an SUV. I have a medical condition and it was suggested that I would have better mobility getting in and out of an SUV. I then explained that my daughter just 2 weeks earlier bought the Ascent and told me "Mom we went to buy the Forrester but the Ascent was what we needed. You will love the Forrester and you should go try it out" I told him (through tears) I felt like the charges I didn't agree to were causing me a great deal of stress. I honestly thought it was a lost cause telling him my concerns because I didn't really think it would change anything. After listening to me he said first let me tell you this. "You bought your Subaru from me and that makes you Family and if you are not happy I will fix it and you will be happy: I seriously was floored at his concern and compassion. He had the finance lady redo the contract to take out the 2 items I did not remember agreeing to. I absolutely could not believe he was doing this for me. I truly prayed to God before going to the dealer that day for a good outcome. I was so Blessed! When the time comes and I need a new vehicle again I absolutely will go to that same dealer and purchase another Subaru. I will also tell everyone that asks what an honest and nice guy the Wahid is. Respectfully, Charlene Knight
---
Fairfield Subaru and LLS Blanket Delivery - Megan M
For our blanket delivery on June 26th, we were lucky to get one of the brand-new Ascents which fits all of the boxes of blankets - I'd like to think they designed it just for this partnership! We were unable to visit with patients, but our contact at North Bay Cancer Center, Magi, was more than happy to take us on a tour. The pride that Magi took in where she worked was inspiring. She was thrilled to take us on a tour of their relatively new facility. Pointing out the themes of each floor, and the strategic layout that always has patients in mind. Magi told us that last year, the blankets were delivered just before the opening of the new facility and they placed a blanket on each and every chair. So, when the doors were officially open to patients, each individual had a blanket ready and waiting for them. While North Bay Cancer Center does not treat pediatric patients, they were thrilled to receive the arts & crafts kits. Magi told us that whenever children are accompanying patients, the hospital staff will go out of their way to entertain them – often running to the store to buy toys with money from their own pockets. The quote that stuck with me was "we are treating the whole family, not just the patients". Our main contact at Fairfield Subaru, Olivia, is the sister of a Lymphoma survivor. To hear her story of what it was like to see her older sister go through something like battling a blood cancer, was gut wrenching yet inspiring. Thankfully, her sister is back to good health and has a beautiful family. While touring the building and being introduced to North Bay Cancer Center staff, one doctor excitedly told us "I just bought a Subaru and LOVE IT". Magi, and other staff, thanked us multiple times but I think we all felt like the lucky ones. Thank you to Fairfield Subaru for making a difference!
---
Blankets for cancer patients - Fran I
Thank you, Fairfield Subaru, for teaming up with the Leukemia & Lymphoma Society's Greater Bay Area Chapter to help cancer patients! For the second year in a row, Fairfield Subaru made the generous gift of 80 blankets and 10 arts & craft kits for patients undergoing treatment at the NorthBay Cancer Center in Vacaville! Last year, the NorthBay Cancer Center was just opening up a brand new facility right as the blankets were dropped off. Blankets were placed on each chair in the chemotherapy infusion room so that when the facility opened for its first day, patients were immediately greeted with some warmth & hope from the surrounding community. We know that the blankets will be much appreciated again this year! We are so grateful to Fairfield Subaru for supporting such a meaningful cause!
---
Subaru and NWF Loves the Earth - Patty L
Thank you Fairfield Subaru and National Wildlife Federation for the new garden! The kinders helped plant it this morning. Looking forward to seeing all the new plants grow! Drip irrigation and hummingbird feeders will be installed soon. (This garden is located in front of Ms. Culien's classroom next to the parking lot). Sneezeweed, gaillardia 'Arizona Sun', Joe Pye Weed, Sedum 'harvest moon', Little Bluestem, and more!
---
Butterfly Heroes - Sukhpreet S
Doing Our Part to Save the Butterflies, Fairfield Subaru. Did you know the monarch population in the United States has declined by more than 90 percent in recent years? For the month of April, Fairfield Subaru is partnering with the National Wildlife Foundation for the Butterfly Heroes Program. Butterfly Heroes seeks to bring awareness to the declining population and connect our community of gardeners and kids, families, and schools alike to help the monarchs and other pollinators. Creating monarch and pollinator habitat is a wonderful opportunity for observing one of nature's most miraculous occurrences. The unique transformation the monarch butterfly undergoes during its life-cycle from egg, caterpillar (larva), chrysalis to the delicate yet resilient butterfly is wonderfully intriguing for students and teachers alike. Fairfield Subaru will have a butterfly habitat planter on site and be giving away seed kits. Stop in and check it out. We also encourage you to be a butterfly hero and grow your own butterfly habitat at home. It's a great activity for the kids or grandkids!
---
Fairfield Subaru gives back to the community - Wahid K
Fairfield Subaru is committed to serving the military personnel from Travis Air Base and the local first responders of Solano County and the surrounding area. To express our appreciation and gratitude for the daily service of our local heroes, during the holiday season, Fairfield Subaru donated a holiday tree to the families of all military personnel and first responders in the area, including the local police and fire department personnel. Over 1,000 trees were given away to these families. Helping the local heroes, who protect us every day, is a lovely way the team at Fairfield Subaru gives back to the community, and they are committed to doing just that! The team at Fairfield Subaru loves to Share the Love!
---